How to manage follow-ups on your clients once they're won
You Don't Need a CRM! is a lead management software which aims at helping you close deals faster and at managing them in the most efficient way possible.
Nevertheless, experience has shown us that once a lead changes to WON, i.e. a deal was successfully closed, there's often a need for a post-sale follow-up. Thus, You Don't Need a CRM! also includes a follow-up system.
In fact, closing deals is important but so is delivering.
You Don't Need a CRM! enables you to create a follow-up template (or several templates if you use the Expert Edition), with predefined tasks. Once the status of a lead changes to WON, you can easily add a follow-up process to it.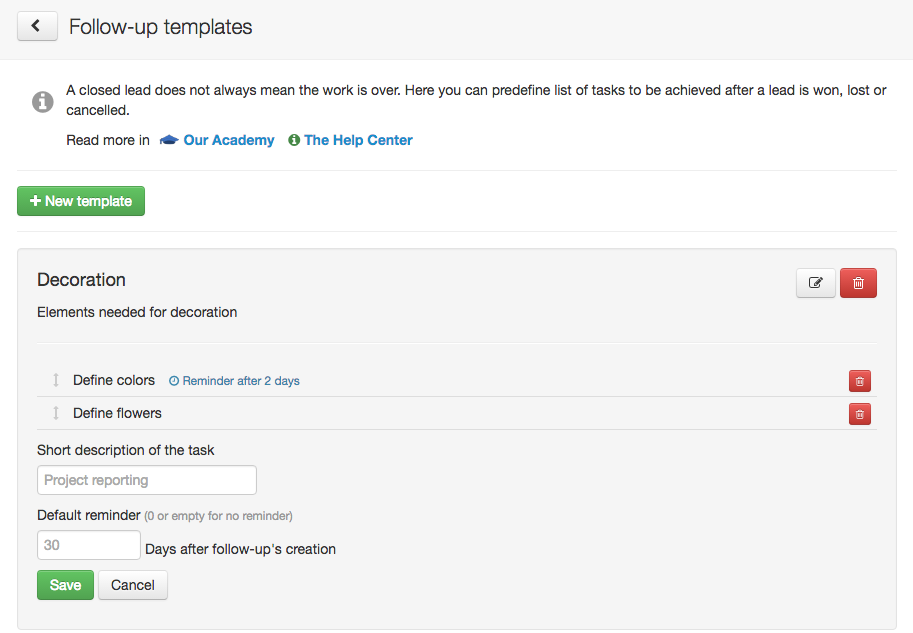 Example: Using the follow-up system in a travel agency
In a travel agency, when a lead changes to WON, it needs to be followed-up for a correct organization of a trip.
A lead enters into the following follow-up process:
First follow-up name: Trip Organization. Associated tasks:
Receive deposit
Confirm reservations
Invoice
Total payment
Send out documents
Confirm chosen service
Travel
Second follow-up name: Upon arrival. Associated tasks:
Arrival of guests
Tour comment of destination
Tour comment sent to agent
Quality control
For more information about how to set up and use the follow-up system inside You Don't Need a CRM, go to