noCRM.io meets ActiveCampaign
Connect noCRM.io with ActiveCampaign to manage your leads, nurture them, and turn them into customers
Last update on December 8

What is ActiveCampaign

ActiveCampaign is an email and marketing automation tool that helps SMBs go beyond marketing automation to enhance their customers' experiences.
Use a complete set of marketing tools (including web, social, email, chat, and text) to reach your leads and customers where they are.
Customize user experiences throughout all your channels including landing pages and high-converting forms
Create or choose from hundreds of prebuilt automations to nurture your leads and drive them to take action
Try ActiveCampaign Marketing Automation Software for free.
noCRM.io is integrated with ActiveCampaign to enhance your leads' experiences.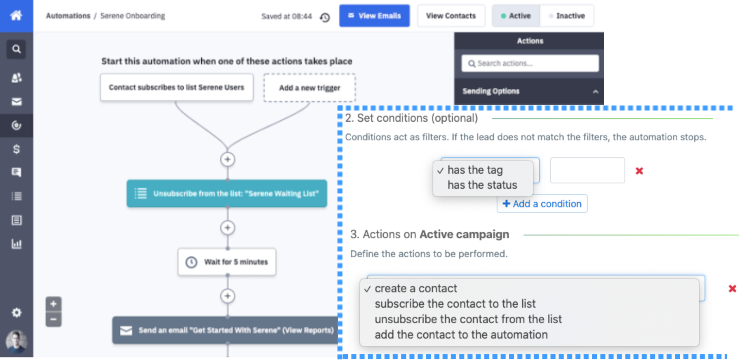 Create contacts from noCRM.io and subscribe/unsubscribe them to/from a list of your choice in ActiveCampaign
Add leads to email and workflow automations in ActiveCampaign based on specific noCRM triggers and conditions
Learn more about getting started with noCRM.io and ActiveCampaign here.
noCRM.io is a powerful lead management system that focuses on helping your sales team close deals with ease
Easily create leads from several sources including LinkedIn, business cards, e-mails, web forms, and more
Manage cold prospects separately from hot leads
Easy end-to-end lead management
Don't drop important leads and close more deals!
Try noCRM.io for free if you don't have an account yet!
How to connect noCRM.io & ActiveCampaign


Login to your noCRM.io account and go to the Admin Panel to select ActiveCampaign. Click on Connect my ActiveCampaign account and enter your API URL and Key to start optimizing your leads' experiences.
For more information on what you can do with our ActiveCampaign integration, visit our help page here.
drip campaign
workflow automation
email marketing
add lead to automation
integration
15-day free trial - No contract - No credit card required