Automate a smart 2-way contact sync with your favorite apps
PieSync is a third party app enabling users to eliminate import/export by integrating no CRM.io with other apps for a smart 2-way contacts sync. Every time a contact is added or updated in app A, it is automatically synced with app B, and vice versa.
With over 80 apps available, you can now easily sync your contacts and connect your teams!
⚠️ This integration is only available on the Expert edition.
Getting started
Sign into your PieSync account and choose the two apps you want to sync together. If you don't have an account with PieSync yet, sign up for a free trial here.
How to authorise

no

CRM.io

in PieSync
For no CRM.io, we need your slug/subdomain and your API Key.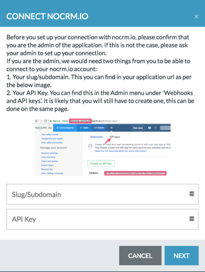 If you aren't logged into your no CRM.io account just yet, we ask you to do so first. You can create your API key in the Admin panel under "Webhooks and API" in the API Keys tab.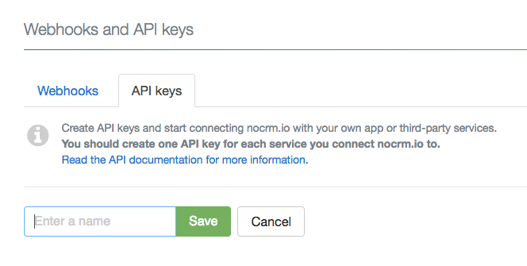 If you already authorized no CRM.io account(s) in the past or in any other PieSync integration, you'll be able to skip this step and choose from your CONNECTED ACCOUNTS.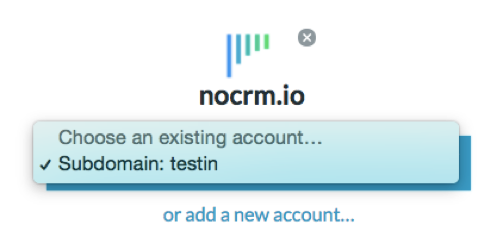 Setting Supported Conditions and Filters
Contact owner
Is starred
Is not starred
Field values (including custom fields)
Already exists in apps you sync with

Setting Supported Actions
Setting contact owner
Add/remove star
Updating field values (including custom fields)

Default Field Mapping
Depending on the other app you're syncing with, you'll see a number of standard no CRM.io fields being mapped by default. For instance, in a connection with MailChimp, the default field mapping looks like this: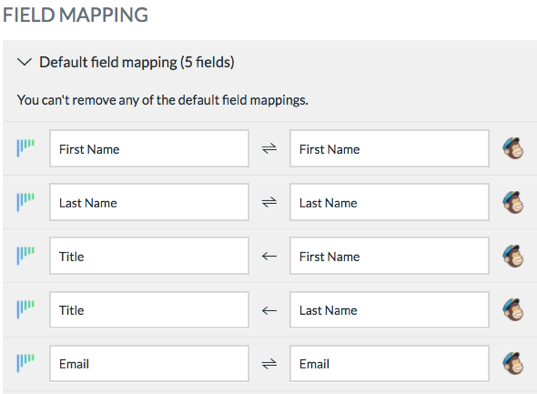 PieSync syncs the default name field(s) that come with the apps. Sometimes they have a different structure in both apps you connect. E.g. first and last names are separate in app A and joint in one field in app B. In the background, PieSync joins first and last names together from app A to B and separates them again from app B to A. Our algorithm is smart about which part it updates in app B.
Customizable Field Mapping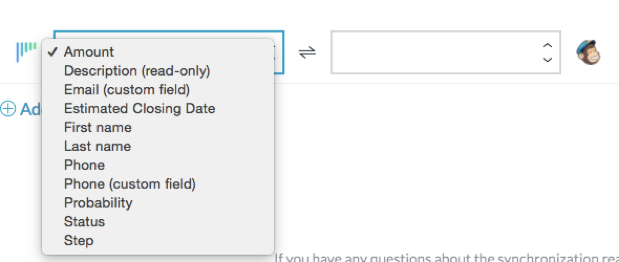 You can custom map your no CRM.io Custom Fields and any additional standard fields that aren't included in the default mapping yet. Bear in mind a mapping between two fields can only exist if the types of fields are compatible and the particular compatibility will determine the direction of the mapping as well. More information on Customizable Field Mapping here.