Notifications inside & outside the app
Notifications are very important to make sure you don't forget to follow-up on your leads and know when somebody interacts with you or one of your leads.
Inside no crm.io there are several ways to make sure you never miss out on important information and reminders.
1.The Notification Center 🛎 , which will notify you as soon as:
a reminder wakes up
someone comments on a lead or post-sales tasks that belong to you
someone commented on a lead or post-sales tasks you are related to
someone assigns you a new lead
You can mark your notifications as read at all times. If you don't see it inside the app, 5 min later you will receive an e-mail notification with the information.
If you have too many notifications, you can open the Notifications Page, from the 🛎 icon in order to filter those you wish to see as shown in the image below.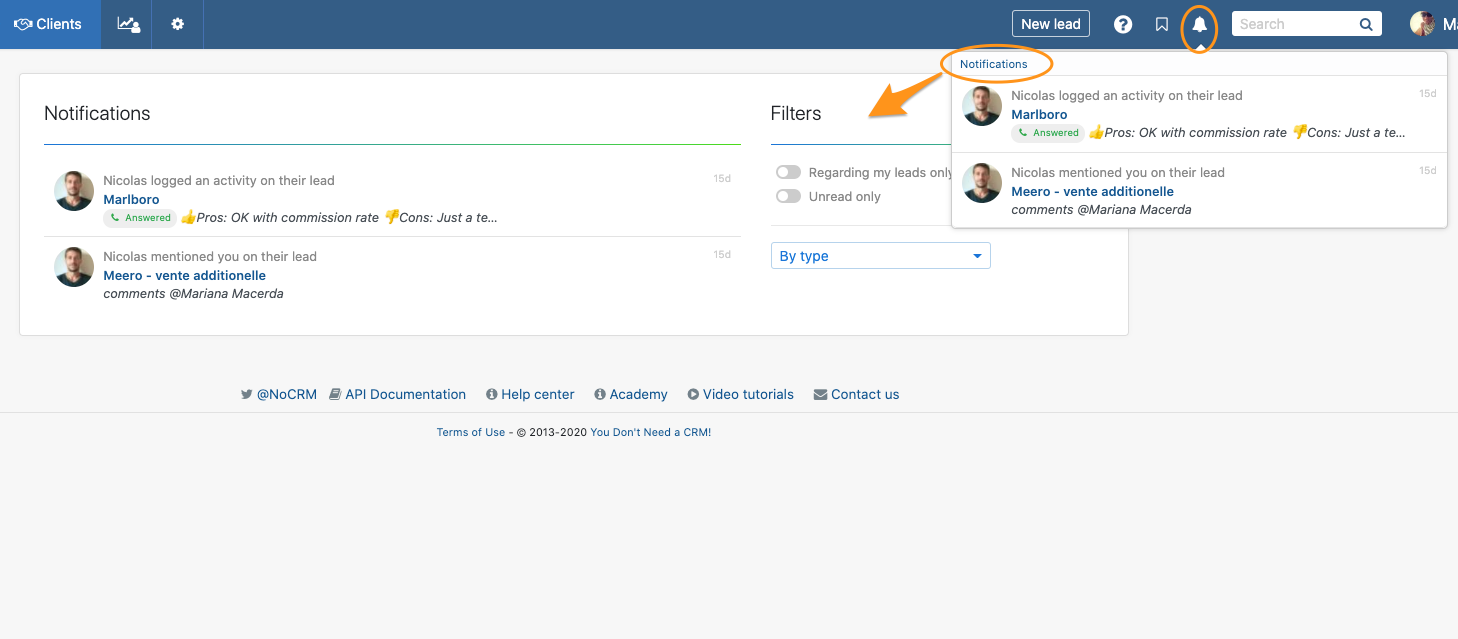 2.Notifications outside the app
Every user can define the notifications they wish to receive also outside the app: either by e-mail, on their phone, or directly on their browser. How?
Go to your User Settings, and you'll be able to set up the notifications you wish. Such as:
The frequency of your "business digest",
The frequency of your "admin digest", if you are an admin of course.
Let's have a closer look:
By e-mail, on your phone or directly on your browser
Define notifications by e-mail, on your phone, or directly on your browser, such as:
The morning Briefing: know exactly what you need to manage during the day
An alert 15 minutes before the scheduled reminder
An alert when someone comments your leads
An alert when someone assigns you a lead
An alert when someone assigns you several leads at once
An alert when someone assigns you a post-sales process or a single post-sales task (the latter in the Expert Edition only)
An alert when someone writes a comment on a lead that belongs to you or that you've commented on
An alert when someone assigns you a prospecting list

⚠️ Specificities regarding Browser Notifications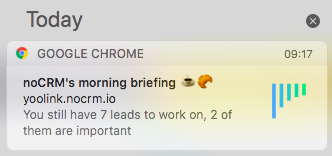 Browser notifications are only available for Chrome, Firefox, Opera and all browsers built on Chrome
Browser notifications do not work on IE11, Edge and Safari (!)
You'll need to activate them manually, directly from your user preferences or when you set a reminder for a next action (Standby)
If you log into your account from a different computer or browser, you'll have to accept browser notifications again