Email Integration
Managing your business opportunities takes time, so being able to send and receive emails directly in your lead management software is a must! What's the solution? Using the 2-way email, available in noCRM's Dream Team Edition.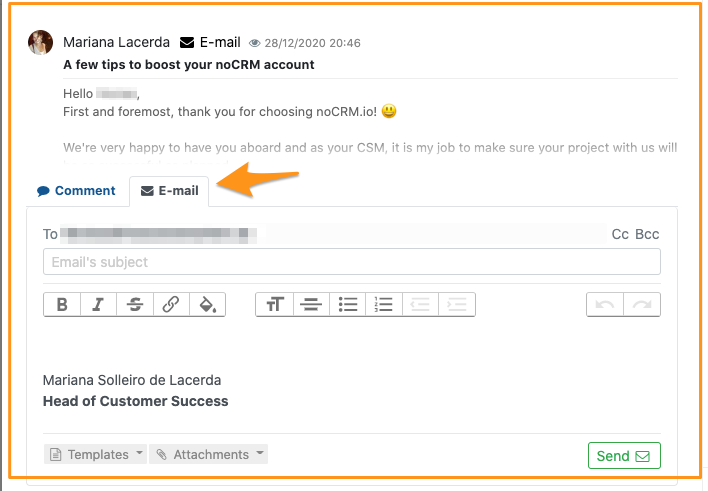 How to connect your inbox to your noCRM account
In order to set up the 2-way email, you need to use noCRM's Dream Team Edition. Then, every user of the account will have to connect their inbox (Google, Outlook, Yahoo*, Thunderbird...) following these steps:
Go to ... > Tools
Scroll down to 'Connect'
Click on 'Inbox Connection'
Connect the email account that is associated with your user, or to another one.
*If you have a Yahoo account, you will need to create an app password on Yahoo! If you encounter any issues with other email providers, you can try to find a solution here
⚠️ the same email address can't be connected to two different noCRM accounts and you can only connect ONE inbox to every user account. If you use multiple email addresses to communicate with your leads, choose to sync with the one you use the most and use the @bcc system for the others.
Once the connection is done, every sales rep can start sending and receiving e-mails inside noCRM, to/from both prospects and leads!
Here a video to show you how to proceed with Gmail accounts:
⚠️ If you wish to reply to your prospects or leads directly from you usual inbox, you can, and the answers will automatically be attached to their forms inside noCRM!
Amazing right? But that's not all we have to offer!
Once the email integration is set up, you'll have access to: