Export your leads
For reporting and marketing purposes, you have to be able to export data at all times, and inside no crm.io, the export feature is quite powerful. Not only can you export all your leads (as an admin), but also filter them by status (Won, Lost, Cancelled, To-Do, Standby) or by tags to create a more specific export list.
For example: if you wish to export all your won leads in Miami, you can. This is where customization of your tags, for instance, will come in useful.
In order to get a good export, please make sure that you have set up your predefined your leads' fields in Admin > Predefined fields. Ensure you do this before exporting.
Exporting all leads
Go to the All Leads page inside your account, choose the compact mode view and click on the Export button at the bottom of the page.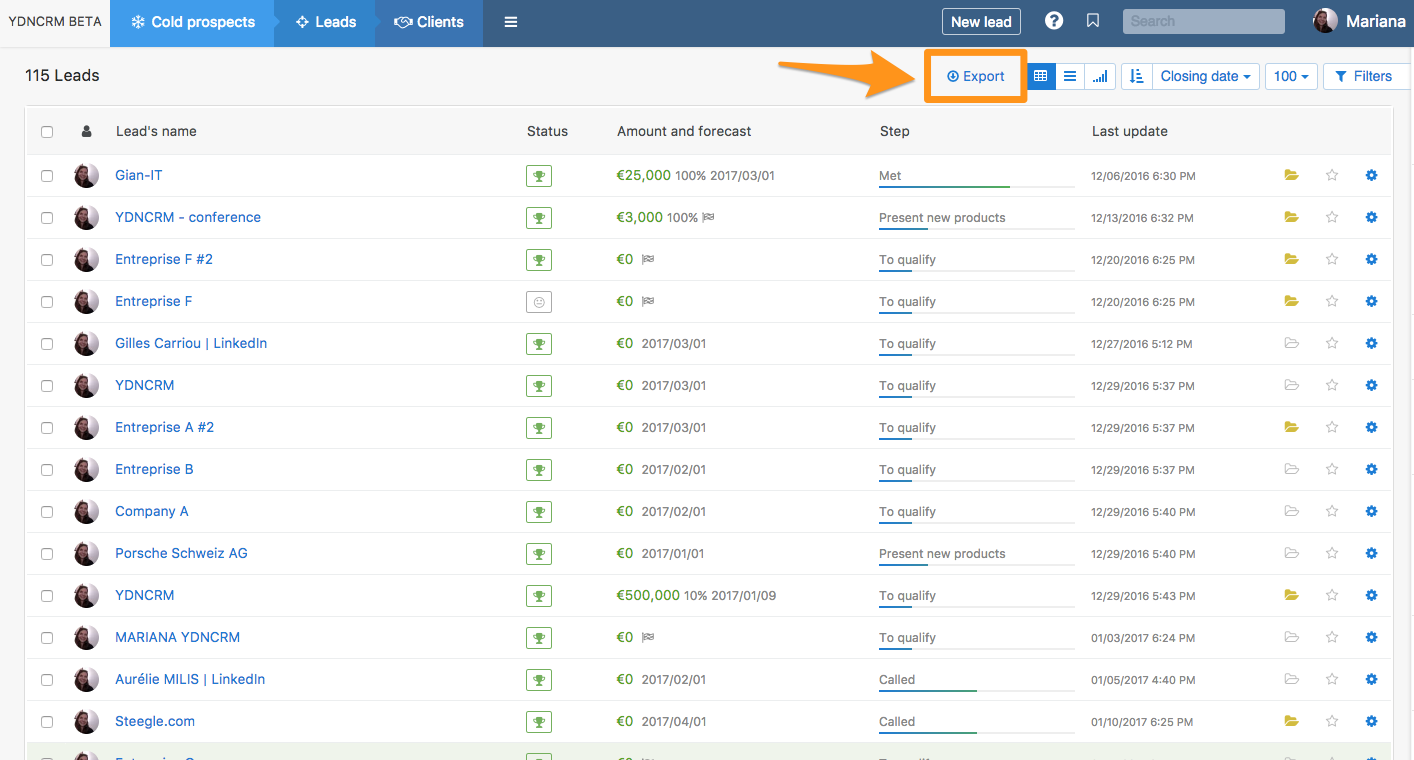 Export your own leads
You can export your leads by simply clicking on the "Export" button, available at the top of every page.
Export leads according to tags
Select the tag you wish in the tag cloud on the right sidebar of your account, choose the compact mode view and click on the Export button at the top of the page.

---
⚠️ Format & Content of your exports ⚠️
1. Format
When clicking on the 'Export' button, you will be asked to choose the format in which you wish to export your data. Some formats may not be compatible with your Excel version so please make sure to use the correct formatting in order for the export to work properly, or try several until you get the correct one (but remember what mentioned above, we only export correctly what's inside the predefined fields you've set!).
Also if you wish to export the comments that where added to the leads, please make sure to tick that box (see image below).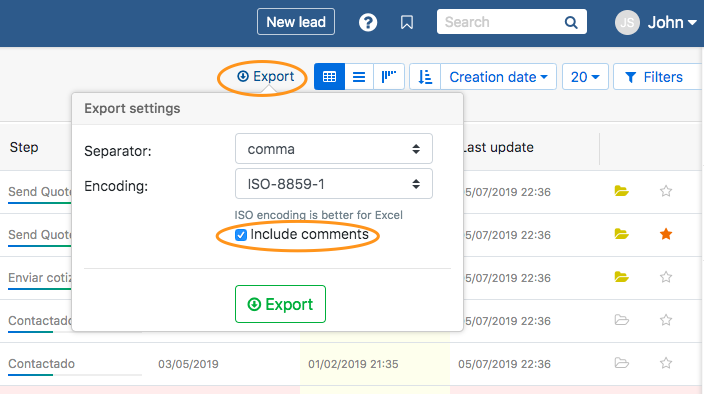 2. Content
When exporting leads, you'll have a CSV file with the following information
Name of the lead
Every information contained inside predefined fields
Categories as column names, and their tags inside their corresponding column
Lead status
Amount
Probability
Comments (if you ticked the box - see above)
Pipeline step at the moment of the export
⚠️ Attachment ARE NOT exported. To export attachments, please check our api.